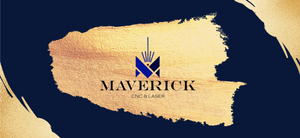 Our Story
Maverick CNC & Laser is locally owned and operated by a husband and wife team based in Hinton, Alberta, Canada. We are a small business that specializes in custom design and woodwork. We offer hand crafted products and services, including CNC router and laser cutting/engraving. We strive to bring you unique, hand crafted, and personalized goods.

Jade has always enjoyed being crafty and has a local photography business, specializing in landscape photography art. (Check her out at Jade Cunningham Photography). She would always ask Aaron to make her picture frames for her art. Aaron wanted to find an easier way to make them so he built his first CNC router table. That left us with wanting more, so we purchased our first laser, an Aeon Nova 14.

Jade now works full time from home making custom goods for local customers.

Thank you for visiting our shop and please reach out to us if you have any questions!